ALWAYS ON A SUNDAY!
Sunday lunch is an important occasion of the week for many peoople, and we are no exception..
Unlike when I was young, we do not have three meals. I remember from very early that my parents would prepare a cooked breakfast of bacon, eggs & tomatoes then a lunch (dinner) of a roast beef, pork or mutton – never chicken because that was so expensive) – roast potatoes with two or three veg. Then around 5pm we had Tea! Ham or pork pie salad, tinned fruit and tinned cream with bread and butter!
Yet, we were skinny kids in those days. Perhaps it was the running about in the fields, and, on the railway bank that burnt off the fat!
It was around then that I started to become interested in food and cooking: from about the age of eleven I was encouraged to prepare breakfast. Probably allowing my parents to have a lie! At lunch time my 2 sisters Sue and Ann and I used to be in charge of making the gravy. It was a always a competition who made the tastiest! Actually it was no competition, mine was perfect! I will await the repercussions of that remark from both them!!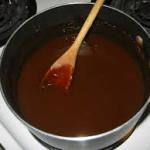 These days we only have a light breakfast of eggs and toast – occasionally a bacon sandwich, always white bread with brown sauce for me, ketchup for Sheila. And of course a huge mug of tea …….
Today, Sunday 14th December we are planning Lamb shawarma ( from the book "Jerusalem" by Yotam Ottolenghi & Sami Tamini). A leg of lamb marinated in spices overnight then pot roasted for approx 5 hours. The lamb is sliced and served in a hot griddled pitta bread, spead with Harissa paste & chopped tomatoes, and topped with tomato, onion, and cucumber salad! It is one of our favourite ways with lamb. This book is currently one of our favourites, we love experiancing new quizines;
Chicken simply roasted, or in the summer on the Barbecue is another favourite. I believe somewhere else in this blog I have referred to the fact that we have rediscovered chicken again since moving to France. It tastes so good.
A simple macaroni and cheese with salad is a regular. Or even a cottage pie.
The main thing is that we make it feel special, preparing the table, listening to music as we prepare the meal. We have a tendency to plan it for late afternoon or early evening. This is a throw back to when we both worked and Sunday evenings were dominated with the dreaded feeling of work the following day!!
Roast beef, Yorkshire pudding, roast potatoes and veg – which is what some French people think the English have most Sundays – is something we save for when we have guests, then you can purchase a large enough piece of beef to roast it to perfection.
We do tend to follow the French tradition these days by having cheese first, followed by the dessert, but, perhaps Deserts deserve a page of their own.
So, there we are, a few thoughts about Sunday lunch …….. the lamb is filling the house with it's delicious aromas while it cooks slowly in the oven ……….. perhaps it's time for a glass of something sparkling!
If you have enjoyed reading my memories of the good old Sunday Lunch then why not visit the Wine Lady