I appreciate the subject of this post will not be popular with some of you, ( Sheila was minded of this when choosing the opening photographs) my sister always reacts with the response "Ugh" when ever I mention a recipe with any of the offal cuts, and she is not alone in disliking these tasty morsels. So for those of you are still with me, let us consider Offal!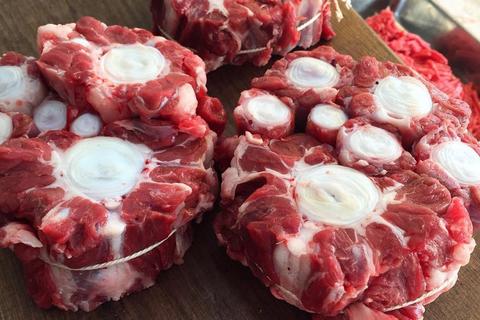 Offal or literally "off-fall", refers to the internal organs of animals. Some cultures consider offal as a food to be taboo, while some eat it daily and for others it is a delicacy.
Some offal dishes—including French foie gras, are considered gourmet. Others remain part of traditional regional cuisine and may be consumed at holiday time. This includes Scotland and the Haggis, the Jewish chopped liver and in the U.S. Chitterlings.
Where to start?
One of our favourites is Delia Smiths  "Kidney stroganoff" from an early book Frugal Food. It is tasty and full of flavour, and compared to the steak version very economical. see recipe
She also does a mean steak and Kidney pudding which as she says is the ultimate comfort food. You cook it for 5 hours, and try to forget about it, which is fine until the amazing delicious meaty smells wafts out of the kitchen.  see recipe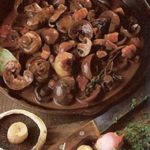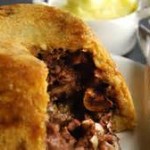 Who remembers the Liver and onions we had a school? Cooked long and slow with bacon and served with creamed potatoes. I know, it was often overcooked and grainy but I remember it fondly.
Our parents often used Ox liver soaked in milk, for a a couple or so hours. Why? I have been given different reasons for this.- it removes impurities, tenderises the meat, and disguises the smell? For me it tasted good, which is all that matters.
Muriel, Sheila's mother loved to cook. Unfortunately Sheila's father wasn't adventurous food wise (that's putting it mildly!). I remember her preparing us a dish of slow cooked, stuffed lambs heart – absolutely delicious.
We discovered sliced Ox heart on sale in a supermarket here in France – cooked like lambs liver it was very tasty.
Sheila makes a chicken liver pàté which is so, so easy, and so full of flavour.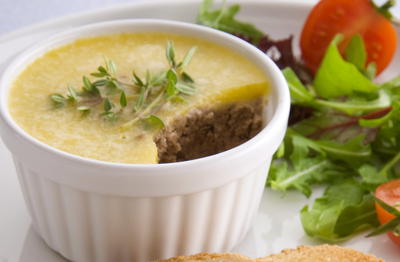 She once decided to make a big pot of it to take on our annual family holiday. All was ready, car packed, so she got it out of the fridge, and, off we went to Dorset. I think it might have been while we were sat on the ferry she said "I've left the Pàté at home and of course its out of the fridge" !! No turning back. Not a problem? It was waiting to greet us at the back door when we got back!!   see recipe 
I suspect the most disliked of the offal is black pudding, perhaps because of its main ingrediant, but, both Sheila and I love it. We come from a background where Sheila (originating in Manchester) it was always boiled, mine fried of grilled. We like both the French and the English versions. The English is firmer, and contains larger pieces of fat and is more seasoned. A classic starter we often serve is scallops with black pudding served on a bed of cauliflower purée. Delicious.   see recipe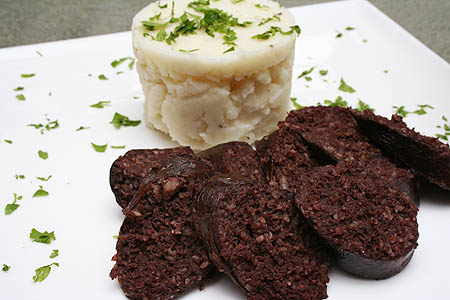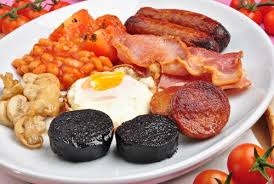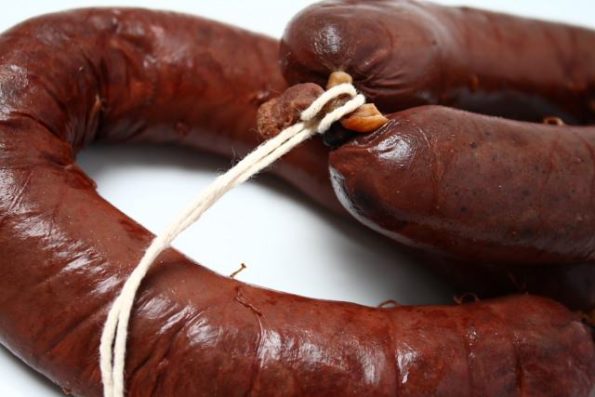 When at "work" Sheila used to organize a once a year quiz night she prepared a buffet for half time, it would always include black pudding sandwiches, which were, believe it or not, always first to go? Sheila often stood aside, letting people go first and she always missed out! The cry "Next year we need more black pudding!!" Was often heard.
Next Oxtail. The unctuousness of Nigella Lawson's Oxtail Stew with Thyme and Mackerson is a dream. Mopped up with creamy mash. see recipe 
During the Bovine spongiform encephalopathy (BSE), crisis of 1996 and 97. The British government banned the sale of meat on the bone. The day after in the supermarkets Beef was on sale at ridiculously low prices. Many people were filling two trolleys. I believe we did snap up a few bits. Other people stopped eating beef altogether.
At this time we often brought our meat from a local farm shop. We were in the shop one day beguiling the missing joints. Rib of beef, T bone Steak and of course Oxtail. The butcher just looked at us and said "Not here" !!! So we had Nigella s oxtail stew, all the better I think for being, ……well, almost contraband. On Johns birthday in the January, we enjoyed rib of beef with Sheila s Nephew Simon.
Tripe. I have not given up on Tripe. I suspect Sheila as , but to be fair she has tried it. The first time for both of us was at a Sheffield Market. There was tripe stall where you could buy a little plate of tripe morsels for 3d – yes it was pre decimal – with salt and vinegar I ate mine, but when I looked across at Sheila she was struggling, until the lady on the stall said " I think you'd better take the plate off her! 
Sheila remained undaunted and made us a dish of Somerset Tripe made with cider, a very unattractive dish. A Tomato sauce with Hugh blobs of white floating in it! (dont think about it too long ) I am having a renaissance with it in France, it is different and cooked, and very popular lots of the little villages have tripe fairs. Only in France!
Recently on a visit to a Saturday morning market we found fresh Lambs kidneys, we couldn't allow these to escape our clutches! The bu cher swiftly cleaned and prepared them for us and the following day a breakfast dish of devilled kidneys was enjoyed. see recipe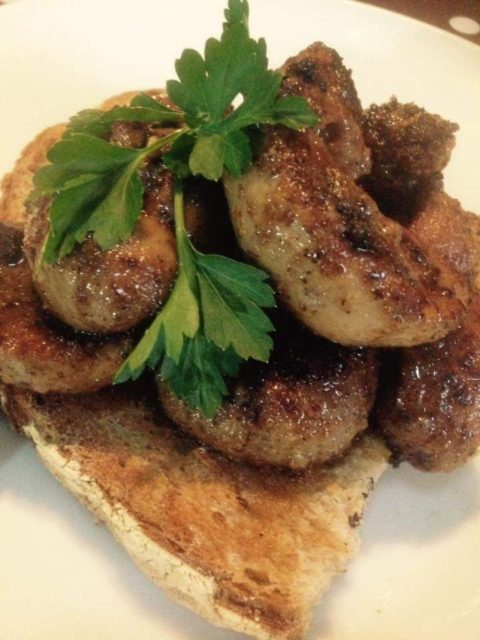 This took me back to the early days of our marriage while we lived in the centre of Chesterfield – a Saturday morning stroll to the market there often saw kidneys freshly ripped from a sheets carcass by an elderly lady butcher. These morsels we enjoyed with crisp bacon for breakfast. 
Some offals I have yet to try and I am open to sampling them. "Brains" was a recent first and I look forward to eating them again, beautifully delicate.
So we are at the end of the offal journey , but it is evident when I read back that these words "Tasty", "delicious", "unctuous", "full of flavour", "love it,"
It really is not really awful at all!