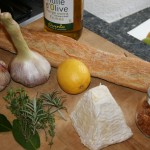 Roast new  Garlic with creamed Goats Cheese
A fabulous way of enjoying the first garlic of the year.
Ingredients
8 heads of new garlic
175 ml olive oil
4 sprigs of Thyme
1 sprig of Rosemary
2 bay leaves
1 lemon cut into 6 wedges
salt and pepper
For the creamed goats cheese
175g goats cheese rind-less
75 ml double cream
dried chilli to taste
Method
Pre heat the oven to 200°c Mark 6
Slice the tops of the garlic heads about a quarter of the way into the bulbs. Pack snugly into an oven proof dish in one layer. Pour on the olive oil, and tuck in the herbs. Give each lemon wedge a good squeeze, and then put them into the dish as well. Season. Place in the oven. Check it out, after about 10 minutes, if the oil is bubbling turn the oven down to 170° C Mark 3, and bake for 40 to 50 minutes. The garlic should bake slowly in order to give a melting softness.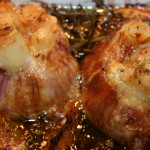 Meanwhile mash the goats cheese as smooth as possible, then add the cream, and t he chilli, salt if necessary.
Remove the garlic and allow to cool.
Serve lukewarm straight from the dish with the goats cheese in a bowl. Serve with toasted ciabatta, and bunches of water cress. The way to eat this: is to help yourself to a garlic bulb, ease out a clove and spread it onto the bread, add the goats cheese…….. and enjoy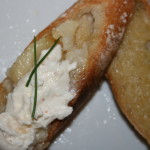 Original Recipe Simon hopkinson Roast Chicken abd other Stories ebury Press 1994