We must have appeared a strange bunch driving from Calais to the Vendee, just inland from the west coast above La Rochelle. The car piled high with clothing, and, other objects not put into storage.
Sat on top of our belongings was Lucy, our Old English Sheepdog, almost pushed flat against the roof of the car! Henry, our cocker spaniel, in his usual position at Sheila's feet.
It was a long journey, and, after a few comfort stops, plus a supermarket shop for steak, salad and wine, we arrived at the Gite we were renting from an English family.
The Gite was a little unwelcoming on a dark rainy November evening, but, the sound of sizzling meat, the pop of a wine cork soon relaxed us.
The Gite was a long narrow building with 4 bedrooms, a dining kitchen, lounge, and games room. Quite comfortable, and, in an isolated hamlet.,The following morning the first thing on the agenda, was food shopping, and, while Sheila unpacked, I set off searching for vital supplies. 
Foreign supermarkets had always appeared full of unfamiliar, but interesting produce, seemingly having a wonderful selection of cheeses and wines. So an abundance of these were purchased!
Our first real "French" meal was endive wrapped in ham and baked in a cheese sauce. This has been a simple favourite over the years, but, has changed quite a lot since this first attempt.
We now cook the endive in butter plus a little lemon juice, until it is wilted and golden, previously we only steamed it. Then instead of plain ham we use Bayonne, or, another similar type. 
The cheese sauce is now well flavoured, with Gruyère, seasoned with Dijon mustard, and a breadcrumb topping with Parmesan.
Sheila normally makes the sauce, flavouring the hot milk with onion, cloves and bay leaf. She takes the long route by cooking the butter and flour together then slowly adding the milk a little at a time. I prefer the all-in-one method of placing the COLD butter, milk and flour in the pan and whisking it all the time over a low heat.
It works for me but Sheila feels this is sacrilege!
Either way, assembled and baked in the oven until golden brown, served with good French bread, and a green salad, it's a delicious autumnal, or, winters meal see recipe
During the run up to our first Christmas in France we explored the Vendee, and, the surrounding area. The markets proved to be irresistible. It was, and still is, possible to visit a market everyday of the week in France.
The fish markets in Fontenay-la-Compte, La Roche-sur-Yon, and, the wonderful one in La Rochelle, fascinated us with the amazing selection of fresh produce.
Rick Steins cookery books proved invaluable as did Sophie Grigsons Book "Fish". Sophie, made interesting reading, with her reminiscences of living, and eating in the Loire region, where her parents owned a Troglodyte dwelling.
We were both extremely happy to welcome my mother for a two week holiday, including Christmas.
When mentioning to her our plans for moving from England, Mum had looked upset, until we told her it was France. "Thank heavens for that. I thought you were going to say Australia!".
She had loved her holidays in France, spending most of them, with my sister Susan and her family.
Chapon (Capon) was our first Christmas dinner in France, but in essence it was completely English! Sheila having made several Christmas puddings the previous year, meant we had one for the occasion.
All supermarkets in France issue catalogues of Menu des Fetes – for Christmas, Easter etc. Meaning you can order your complete meal including wine, ready for the oven/table. While these do look pretty tasty, the pleasure for us, is in the planning, shopping and preparing the dishes. Sheila starts "lists" well in advance, and watch out if I interfere!
It was Mums birthday during her visit, and, I decided to cook her a dish of scallops in a cream sauce. The scallops were amazingly fresh, and cost a fortune, and, I like to think cooked to perfection. We sat down to the birthday meal, and, the dish was eaten in silence, no comment.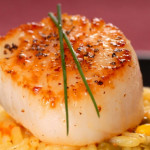 The following day we took Mum to the coast, and for lunch, we stopped at a small bistro, and, had Moulles aux frites (mussels and chips). Cheap, simple and well cooked. Mum finished her meal, and, said after a short pause "Well you can keep your scallops, give me mussels any time!"
Mum was our first visitor, and this was important to both if us. However she was not the last to visit us during our 6 months in this Gite.
So we were so pleased to see our good friends, (in chronological order) Debbie and Steve and the girls, Steve and Dianne with Mike and Fran, and Sally and John and the girls, and, a couple of ex work colleagues.
One fear we had concerning our move to France, was the possibility of losing touch with our families, and our dear friends. This concern proved to be groundless, and now after 13 years we feel very proud and honoured, that they, along with Sue and Dave, Joan, and now Liz and Matt, return year after year.
We do feel that In many ways the time spent together is special and has strengthened our relationships.
The plan in starting our new life in France was to explore this region extensively (we knew little about the Vendee, apart from a holiday spent years earlier near La Rochelle) to see if we would like to settle here.
Renting a property close by was another English couple, who had similar plans to ours. They were the same age, and, it was good to have this contact in the beginning. To share experiences etc. They eventually purchased a house in the Deux Sevres, close to the Vendee, but, after 10 years they returned to the UK.
Early on we were to discover the laid back attitude of the rural community. The boiler in the gite was always a problem, so it came as no surprise to discover a fire had started in the chimney, and, we had to send for the Pompiers (Firemen). The engine promptly arrived, the guys took a quick look at the smoke coming from the chimney, and immediately proceeded to show the old man living next door the finer points of a fire engine. Describing in detail what each piece of equipment did, often accompanied with lots of arm gestures. Eventually they decided that perhaps it would be a good idea to place a ladder against the house and examine it more closely.
This done they then stood back and had a conversation amongst themselves, which I strongly suspected had nothing to do with the fire.
At this point Sheila appeared with a tray of drinks so this took precedence!
Refreshments over they then tackled the fire……………………
Another incident centred around my first visit to a doctor. Over Christmas I had developed a really bad sore throat which was difficult to get rid of so I made an appointment with the Doctor.
Sheila and I set off, and, on the way a dog ran out of a farm yard, and, under the car. We stopped, to check if the dog was OK, The farmer came out: We asked: "Do you want us to take him to the Vets, have him checked over?" As you can imagine at this point Sheila and I were very distressed. The farmer replied "Don't worry it does this regularly"! The dog took a last look at us, and, ran back to the farm.
Following on from this we were obviously late for the appointment, and, by now my blood pressure was probably through the roof. I explained about my throat, and, the Doctor instructed me to take off my shirt, unfasten my trousers, and, lay on the couch! At this point, Sheila, who was only just behind a curtain thought: "Best leave them alone after all two's company three's a crowd!!
The most thorough examination for a sore throat ever!
Since then we realise that each visit to the Doctors includes a quick health check.
Back to house hunting.
We viewed many houses, always accompanied by an agent, but nothing appealed to us, and apart from the coastal region the area did not "grab" us. So, we decided to extend our search.
One very wet and foggy January day we set off to look at houses in the Loire Valley, centred around Saumur.
So the next stage in our journey begins ………..