No its not a former bank holiday in a Lancashire Mill town! But a week spent with my siblings and partners.
Since we moved to France time spent with family and friends has always been important, but, since we lost Mum in 2007, it has an added significance for the family to be together.
The first time in September 2007 was a meal and an over night stay in a hotel near Stratford. We missed 2008, and 2009. The next occasion was not until November 2010, when we had a weekend in The Duke of Buckinghamshire pub/hotel in Portsmouth. Where we celebrated Christmas early.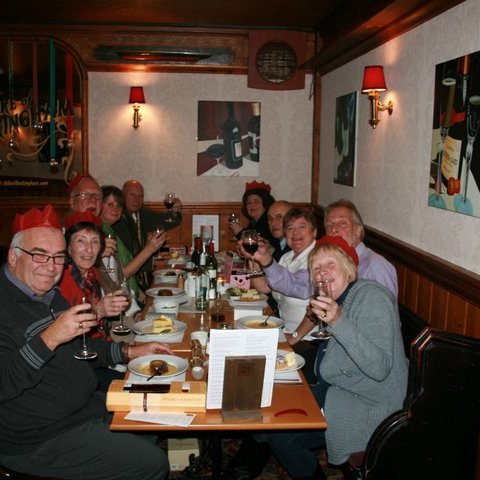 Then due to Australia trips and babies (grandchildren) arriving in 2011. We advanced to a weekend in a cottage in Dorset in 2012. It was perfect, and the pattern was set for future get togethers: self catering cottages, all en-suite bedrooms, a necessity when a family of adults need be ready and brekfasted at a respectful hour, well at least before midday.
2013 saw us decide on France for a week in Normandy.
Next up was Dorset (the same cottage where we spent the weekend 2 years earlier) during one of the wettest weeks in 2014. To put this into perspective it was the year of the Somerset plains floods. It was a problem journey for us all. Each couple encounted floods and diversions. We were so close to our destination when we turned down hill into a lane leading to the cottage only to see a sign "do not pass, floods" so of course!! We ignored it!! Only to be greeted by a raging torrent. We had to reverse back up the hill in a narrow lane, for 150 metres!!
Weeks on Hayling island, Honfleur again in France followed, and this year the Isle of Wight.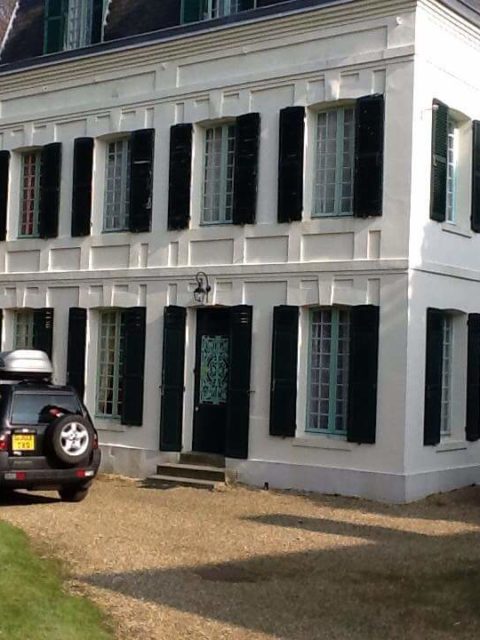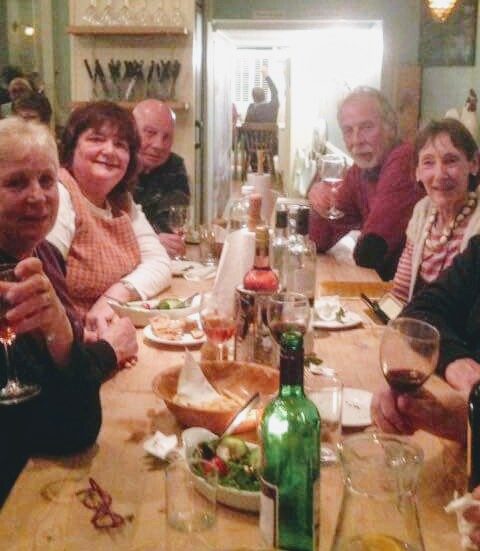 Its the normal family fun and games all accompanied by the odd glass of wine. Even an ongoing "Trivial pursuits" competition. Currently standing at 1 1. In Dorset Sheila organised for us all to select 4 Desert Island discs much to my sisters chagrin when my brother Paul and his partner fell asleep during her choice!
We take charge of the menus and food. Really enjoying researching new and interesting dishes, although it can prove problematic when you take into account 8 peoples different likes and dislikes. A bit like Jack Sprats family.
Cooking is a real sharing moment, often the girls congregate in the kitchen, drinking and chatting, while Sheila cooks. In fact this year on the Isle of Wight there wasn't a table in the kitchen, so they moved a couple of benches into the kitchen. By the end of the week we were all drinking and talking in the kitchen; 2 lounges with comfy chairs and settees for everyone and yet we all sat in the kitchen on backless benches!! The love of food. The love of family.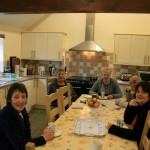 We always seem to migrate to one pub, or bar where we take solace, and take time out, for a debrief of the days events.
In Dorset in was "The Bottle" a very friendly pub where we would partake in a pork pie and a pint. It is "famous" for holding the annual Nettle eating competition in July.
In Hornfleur it was a local bar/restaurant where we excelled our selves. We found it on the Sunday, we ordered our 8 drinks, when they came they were accompanied by 2 baskets of chips. Right! We must stay, we couldn't leave without paying for more drinks: another drink, and yes 2 further baskets of chips came out. During that week Lunch was always taken care of. So generous.
The weeks are never accident free, Falls, Yes we've had a few ( must add not alcohol related ) Paul and David testing the road surface in Winchester and Honfleur respectfully. Sheila prefers the 4 inch deep mud on the Isle of Wight!!
Over the years we've had trips to the Dentist, Doctors, even a hospital, and two vet visits. Is there any wonder when Sheila does the research into the host towns she googles not only the points of interest, but doctors dentist and vets!!
It is always very sad when we come to say our goodbyes, but the Friday night is always spent talking about "where next? One comment "The Isle of Wight is ok, but a little small….. Then: "How about Jersey next year?"!!!!
We are trying to alternate between England and France.
2018 France.
Long may it continue. Cannot wait!