Ghana masala,is probably "the most popular vegetarian curry in India", and with good reason. A dollop of comfortingly bolstering pulses bathed in a thick, tangy, deeply spiced gravy, whats not to like..
Though a popular street snack, hawked with enthusiasm on railway platforms and served up in quantity by work and school canteens, as well as being a fixture at "ceremonies and festive occasions" in the Punjab and Pakistan.
Serves 4-6
Ingredients
450g drained cooked chickpeas (or 200g dried, soaked overnight then cooked in fresh water until tender)
1 tablespoon vegetable oil
1 teaspoon cumin seeds
1 large onion, finely chopped
6 garlic cloves
25g root ginger
30g fresh coriander
2-4 green chillies, finely chopped, seeds and all
1 tablespoon ground coriander
1-2 teaspoon chilli powder
1 tsp ground turmeric
400g tin of plum tomatoes, mashed
1.5 teaspoon fine salt
1 teaspoon garam masala
1 tablespoon lemon juice
Method
Put the drained chickpeas in a pan and add 500ml water. Bring to a simmer and cook for 5 minutes then drain, retaining the cooking water.
Heat the oil in a large, heavy-based pan over a medium heat and when hot, add the cumin seeds. Fry until aromatic, stirring, then add the onion and turn the heat down. Cook until golden brown, stirring regularly. Meanwhile use a pestle and mortar or stick blender to mash the garlic, ginger, 25g fresh coriander and chillies into a paste.
Put this into the pan and cook for a couple of minutes, stirring so it doesn't catch, then add the ground coriander, chilli power and turmeric (and a splash more oil if necessary) and cook for a couple more minutes.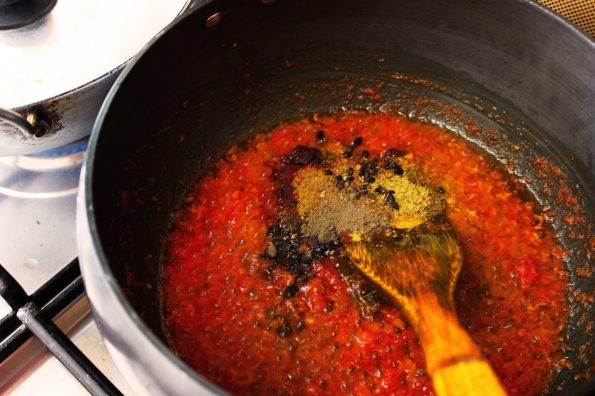 Stir in the mashed tomatoes, chickpeas and their cooking water and salt. Bring to a lively simmer, then turn down the heat to medium low and cook for 20 minutes or until thickened.
Stir in the garam masala and lemon juice, then allow to cool slightly before serving scattered with the remaining coriander leaves.