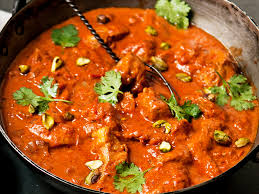 Grandparents and even parents referred to anything that remotely strayed away from good old fashioned "meat and three veg" English food was often referred to as "foreign muck!"
Imagine in 1960's serving up a Vesta Prawn Curry
(apparently this dehydrated food is still available should you have a sudden rush of nostalgia) to a aged relative, and dont even dream of mentioning the word "garlic" A mutiny would occur and once again the cry "I'm not eating that foreign muck!".
How things have changed over the decades. The UK has adopted a myriad of cuisines from every corner of the globe. Of course Indian food was inevitably one of the first to become popular in the UK considering its long history with the sub continent.
A lot of experimentation went on in the Wilton household during those years. Aided by an array of Swartz bottled spices! These were some of the first available spices in our neck of the woods.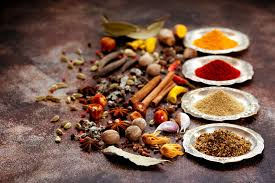 Fresh garlic and ginger where nowhere to be seen, neither was fresh coriander. No wonder then, in the original issue of Madhur Jafrey s "Indian cooking" does she qualify her recipes when calling for coriander: she would add….."or parsley" and for shark curry use cod!
We are talking Chesterfield here. I guess in London, Manchester, Bradford or Birmingham fresh and exotic produce was readily available. You have to remember this is the same time as Olive oil was only available at the chemist in small perfume sized bottles.
We remember one of the first cookery books we purchased Indian Cookery written by Khalid Aziz who was a BBC Look North presenter during the early 1970's. His book was a good introduction to Indian Food The recipes were fairly simple if unadventurous.
It was about this time that the more recognisable cookery programmers were making an appearance – clearing the Fanny Craddock mode of cookery off our screens. Delia Smith of course being a front runner, but also Ken Hom and Madhur Jaffrey.
The latter of course really did open up the world of Indian food and her first book became a firm favourite of ours – as is evident at the turmeric stained pages throughout our original copy. We once let a friend borrow it, her comment on returning it. "It was a smellology of Indian spices"
One of Madhur's signature dishes is Butter Chicken and this is still a favourite in monk-valley. You could always ring in the changes by using tandoori prawns in place of chicken. see recipe
In the 1980s forays to Bradford to Indian supermarkets opened up to us a whole new world of flavours and some strange and exocentric vegetables. Okra, White Raddish, Fresh red and Green Chillies, long beans.
We have experimented a great deal over the years and still love Indian food. I have a tendency to lean towards the lighter recipes and enjoy Thai food for its freshness
Yet little can match the smell of spices being freshly roasted then ground – cumin, coriander,cardamom. Chopping fresh herbs and roots like ginger, garlic, coriander, mint.
A table of Indian dishes served with perfectly cooked rice, fresh made Naan breads, a cooling bowl of Raita and Indian pickles. A feast!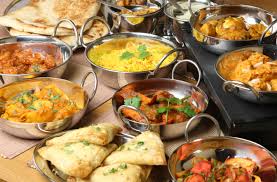 The dishes can be as hot or as mild as you wish, it's a misconception that curry must be hot, and bring you to the point of tears. Another favourite form "Indain Cookery" is Pork vindaloo. This one dish is synonymous with the concept people have in Indian restaurants of ,everything must be hot!! Her version is full of flavour, aromatic and very tasty. see recipe
We remember dining in a restaurant in Sheffield called Nirmal's – it was run by an Indian lady, which was rare. She would come to your table and tell you what she had bought that morning from the market, and talk over with your likes and dislikes and suggest dishes for you. Along with the Bombay Brassiere in London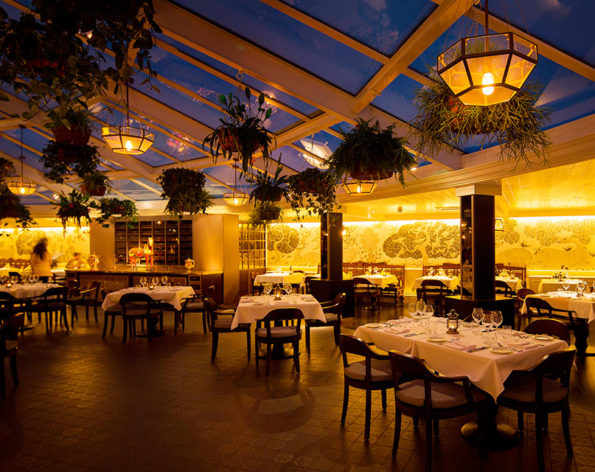 It was classed as Fine Dining Indian Style
Eating Indian food in Bradford and Birmingham restaurants, was an all together different experience – no cutlery was offered – instead they gave you huge heaps of freshly made chapattis and massive table naans which you used to scoop up the food. ………..and delicious food it was.
Talking restaurants this caught my eye in Australia
Using bottled curry sauces is banned in this house! Here are a few recipes that we enjoy. Samosas carrot salad