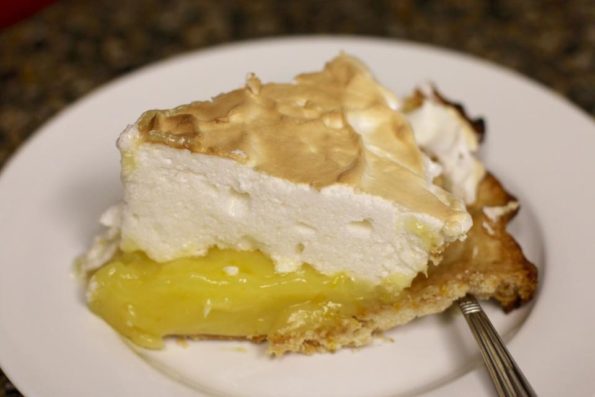 Lemon Meringue pie is one of our favourite pies, it is bursting with fresh lemon taste and a sweet, creamy real meringue topping.
For the pastry:
225g plain flour
2tablespoon caster sugar
1½ teaspoon salt
120g cold butter, grated
1 egg yolk
2 tablespoon cold water
3 digestives, crushed
For the filling:
Zest of 3 lemons, juice of 6 (about 200ml)
50ml water
25g cornflour
175g caster sugar
3 egg yolks
25g butter
For the meringue:
4 egg whites
225g caster sugar
2 teaspoon cornflour
Heat the oven to 170C/325F
For the pastry, mix the flour, sugar and salt, then rub in the butter (you can do this in a food processor if you prefer) to coarse crumbs. Add the egg yolk and just enough water to bring together into a ball. Flatten, wrap, and chill for 30 minutes. Meanwhile, grease a 20-22cm tart tin with a loose base.
Scatter half the crushed digestives on the work surface and roll out the pastry to about a 5mm thickness on it. Scatter the top with the remaining crushed biscuits, and use to line the tart tin, trimming it neatly so there's still a little standing proud of the top of the tin. Chill for another 30 minutes.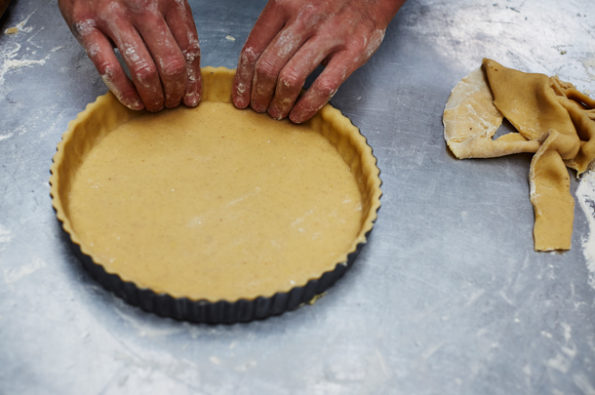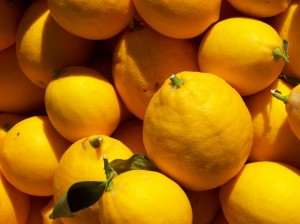 Line the tin with greaseproof paper and baking beans or similar, and bake for 20 minutes. Remove the beans and paper, and bake for another 5-7 minutes until the pastry is dry and pale golden. Leave to cool while you make the filling.
Put the lemon juice and zest in a saucepan with the water and whisk in the cornflour until smooth, then stir in the sugar and yolks. Heat gently, stirring, until warm, then add the butter and bring to the boil, still stirring. It should be as thick as custard. Spoon into the tart case and allow to cool completely.
Heat the oven back to 170C. To make the meringue, whisk the whites until soft peaks form. Add the sugar a spoonful at a time, and whisk until the meringue is stiff and shiny. Whisk in the cornflour, then spoon the mixture on to the top of the pie and shape artistically. Bake for 15 minutes until the meringue is golden. Allow to cool before serving.
Original recipe Felicity Cloak The Guardian