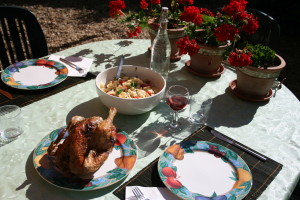 What are my earliest recollections?
Grandma Wilton introducing me to chips and ketchup when I was about 5.
My first banana – I think after rationing had ended following the War.
Orange juice and cod liver oil at Infant school.
Hating drinking tea because I thought it was obligatory to have it sweetened.
Having chicken only at Christmas and loving eating  the leg like my dad did.
Mums home made raspberry and blackberry jams for tea on, sometimes home-made, white bread thickly spread with butter.
All simple stuff but things that I think gave me the desire, some say ability, to eat anything, to try anything new.
Some of our French friends refer to me as a "Poubelle de Tables", a literal translation being "Dustbin of the table". Strangely enough I look upon this as a complement.
As long as I can remember I have liked the idea of trying new things – when we moved to Buckinghamshire many years ago I remember the local green grocer calling on Mum with a couple of Avocado (can never figure out what his motives were ?). Avocado was a pretty strange creature to us, but we gave it a try – it was hard and unripe and we thought totally disgusting!
Now this is another "talent" that I possess – to try something, not enjoy it, but to return to it over and over again until my taste buds surrender, which is rare, or when I like it.
What don't I like in food?
What don't I like in food?
Tripe! But I will not surrender!