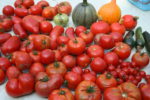 Tomatoes
You say tomato I say Tomayto ……………
Undoubtedly the greatest pleasure from the potager (veggie plot) is the tomato.
Close your eyes, and imagine a warm Summers morning, plucking a small sweet tomato, warm from the sun and popping it into you mouth mmmmmm. I salivate at the thought ………….
Sheila and I had dabbled in growing tomatoes in the greenhouse when we lived in the UK – mainly from seed. To this day Sheila swears that by talking to the individual plants the yield would be improved. She named the individual plants, and, experimented by turning her back on selected plants …………………!
However, after we had purchased the plot of land adjacent to our house in France, growing tomatoes became an outside activity, a revelation, and, a huge pleasure. Before our first attempt at growing, we visited a potager across the river in Le Rosiers-sur-Loire, and, bought some tomatoes for lunch – 8 varieties, all bio, ranging from large beef steak, green striped, yellow, white and even black. We sat outside in the hot sun and devoured a large plate of sliced tomatoes, drizzled with olive oil, torn basil, a sprinkling of red wine vinegar and accompanied with fresh bread from the boulongerie. That lunch is an abiding memory for us both. 
Once we cleared the land, we proceeded to purchase 50 plants, 6 varieties. Wow! We could not believe the success that first year. The crop was pretty modest, but the flavour from the fruit was way and above that of shop bought produce, and apart from one year when ALL the plants died within the first month of planting, we have enjoyed bumper crops. 
Of course eating them fresh is a delight, but, it's also wonderful thinking of ways to use up the surplus, and, this can run into many kilos! It is a challenge. Each year we have jars, and, jars of amazing passata, jars of roasted tomato soup, frozen soups, sundried (oven dried to be exact!) chutneys and pickles – the list is endless.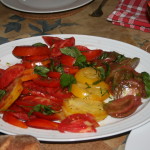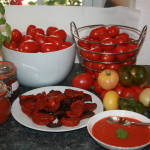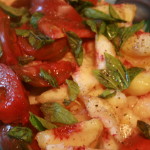 We constantly search for new recipes, and last year we discovered a brilliant "pickle" in Lindsey Barnams amazing book  "The Great Big Tomato Book".
This recipe is quite involved and uses the surplus of small green tomatoes. The end result is delicious ! Apparently it's German in origin, and the pickle is traditionally eaten with all types of charcuterie.
We gave some Australian friends, Rick and Lynne a tasting, and, they loved them suggesting that a small helping served with a dollop of vanilla ice cream would be a great dessert – we agree completely. Rick and Lynne used to own a tomato farm in Australia and both wished they had known of this recipe back then to add to their list of products!
Another growing season is now upon us and the anticipation of which varieties we shall plant is under discussion ………………..